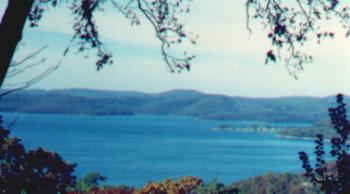 I lured Bertie to Arkansas, not only with a new Mustang, but with a beautiful home overlooking the lake. The scene above is from it's deck. We had a few wonderful days together.

Then Bertie was gone. She just wasn't ready to drop her life and take the chance of starting all over with me.

But in August, Bertie became gravely ill. That did it! I took off for Texas, loaded her up, and brought here back to the Ozarks with me. This time she stayed. Then, on Christmas Eve, we were married.

So, started our life together in our beloved Ozarks...